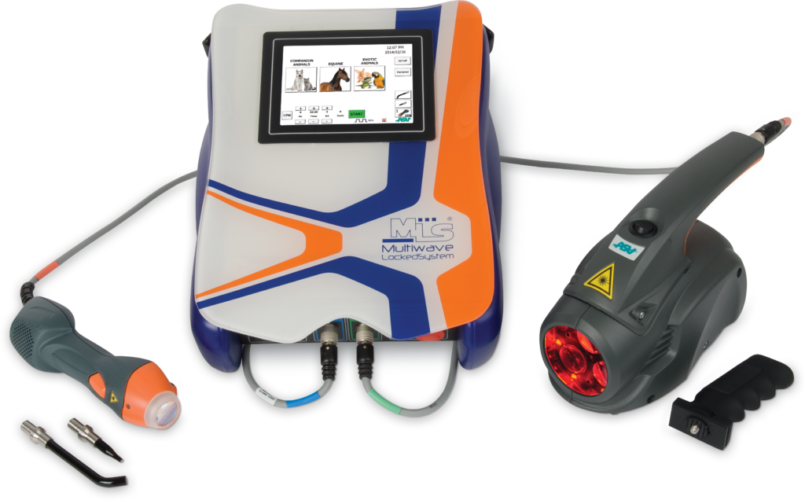 Increased Utility for Your Practice
Building upon the previous model, EVO produces an even faster analgesic response and allows the operator to safely treat more indications with the same precision dosing.  In this model, MLS sources have a peak power of 75 W and an average power of up to 1.2 W delivered with the synchronization of emissions (continuous/chopped and pulsed), which enables the user to reach desired tissue depth, while ensuring complete safety against collateral tissue (heat) damage.
Thanks to the higher peak power, one may act on the source of pain more directly by increasing the anti-inflammatory effects, speeding up the anti-edema effects and promoting activation of cellular regeneration processes.
Unique Features
The EVO is equipped with software protocols specific to canine, feline, equine and exotic applications. The predefined protocol treatment parameters may be modified for a more personalized therapeutic approach.
The innovative and ergonomic handpiece incorporates two overlying laser sources, covering a target area of 2 cm in diameter.  This patented design allows for light skin contact to maximize energy fluence and minimize loss.  A large optical system focuses them and transmits their maximum synergy, resulting in optimal delivery to irradiate the muscular trigger points simultaneously and evenly.
With a new feature, the interchangeable head of the handpiece, the standard lens may be quickly and easily removed and replaced with acupuncture and intraoral tips.
The acupuncture tip (conical light guide) has been designed for laser puncture, with a spot size measuring only 4mm in diameter. The intraoral tip (curved light guide) is particularly suitable for conditions such as gingivitis and stomatitis.
The filter for hair, dirt and debris ensures maximum efficiency during each treatment.
Optical group with MLS source – average power up to 1.2 W, Peak Power 75 W
2 cm diameter Target Area highlighted by high-efficiency red light LEDs
High resolution LCD color touchscreen user interface
Over 80 preset protocols (Canine, Feline, Equine & Exotic)
Program sections for acupuncture and intraoral pathologies
Capability to customize every treatment parameter
Personal area to save custom protocols
MLS pulse modulation frequency from 1 to 2000 Hz with 1 Hz steps
Power level 25%, 50%, 75% and 100%
Variable or fixed duty cycle
Variable treatment time starting from 1 second
Automatic calculation of the emitted energy according to the set parameters
 Alarms and Safety Features
Laser emission warning signal
Interlock (can be temporarily disabled)
Acoustic signal for the beginning and the end of the therapy, and for each treatment second (can be disabled)
Password to operate the device
Laser emergency stop button
Set up for connection to laser emission signal repeater
Dimensions and Weight
14 x 11 x 4 inches; 6.1 lbs
Power Supply
External power supply 18Vdc 50VA
Internal Lithium ion battery
Included Accessories
Acupuncture Tip (Conical Light Guide)
Intraoral Tip (Curved Light Guide)
3 Laser Safety Goggles
Unit Carrying Case
Table Handpiece Holder
Shoulder Strap for Portable Use
User Guide (Small Animal or Equine specific)
Protocol Guide
Safety Sign
Practice Resource Manual
Initial Marketing Package
Optional Accessories
Rolling Cart
Suitable for any portable MLS Therapy Laser, this cart stores all laser accessories and makes transportation between treatment rooms quick and easy.
Dimensions and Weight: 33.5 in H, 19 in W, 22 in D; 37.5 lbs
ULTRA Handpiece
The ULTRA Handpiece can be connected to any portable MLS Therapy Laser model. It has been designed to address larger target areas (6cm) with greater speed while utilizing the same precise point control delivery as the standard handpiece.  Extending the size of the irradiated zone makes it possible to activate large areas of tissue or joints homogenously.The ULTRA is ideal for the following:

High volume practices
When treatment speed is paramount
Mixed or large animal practices
Exotic animals where a "no-touch" protocol is necessary

Lithium Polymer Battery