5-YEAR WARRANTY AT NO ADDITIONAL COST*
Instead of the standard 3-year
*Valid until December 31, 2023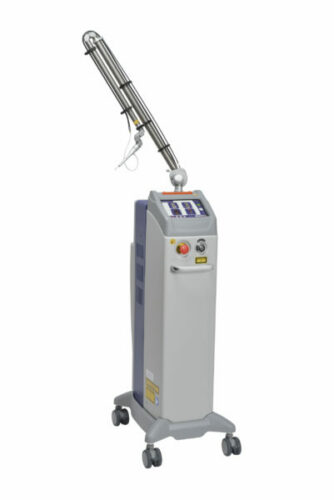 The Gold Standard in Laser Surgery
The Cutting Edge 40-watt CO2 Laser System sets a new standard by combining the advanced features of previous models with a new metal CO2 canister, improved user interface, and unprecedented 25 watt peak power SmartPulseTM technology. 
NEW Features
Enhanced CO2 Canister: The RF excited source allows for a metal canister that provides an estimated 2-3 times longer life than glass tubes.
SmartPulseTM Technology: 25 watts of peak power in Super Pulse mode ensures optimum incision efficiency while minimizing collateral tissue damage.
Improved User Interface: Double the size high resolution touch screen display with on board surgical reference guide.
Same Great Features
Balanced Titanium Articulated Arm: 360-degree hand piece rotation.
Aiming Beam: Visualize energy before firing for improved accuracy.
Automatic Calibration: No delays associated with daily calibration.
Beam Integrity: Consistent energy delivery with no loss of power.
Autoclavable Hand Pieces: No costly waveguides or tips to replace.
Laser Type: Carbon dioxide
Power Source: RF Excited, Metal Canister
Control Panel: LCD color touch-screen
Wavelength: 10,600 nm
Peak Power: 270W/25W SmartPulse mode
Average Power: 40W (CW) at the hand piece output
Aiming Beam: Diode, 4mw, 635 nm
Control: Microprocessor
Control Panel: LCD color touchscreen
Dimensions and Weight
42 x 54 x 118 cm; 136 lbs.
Included Accessories
Autoclavable Hand Pieces
2 Laser Safety Goggles
Safety Sign
Practice Resource Manual
Initial Marketing Package
Optional Accessories
Smoke Evacuator
Every Cutting Edge laser system has all the necessary equipment for complete smoke evacuation to ensure user safety. Our smoke evacuation systems utilize four stages of filtration in a single housing (pre-filter, ULPA, carbon, postfilter), with filter media rated at 0.01 micron with 99.99995% efficiency.