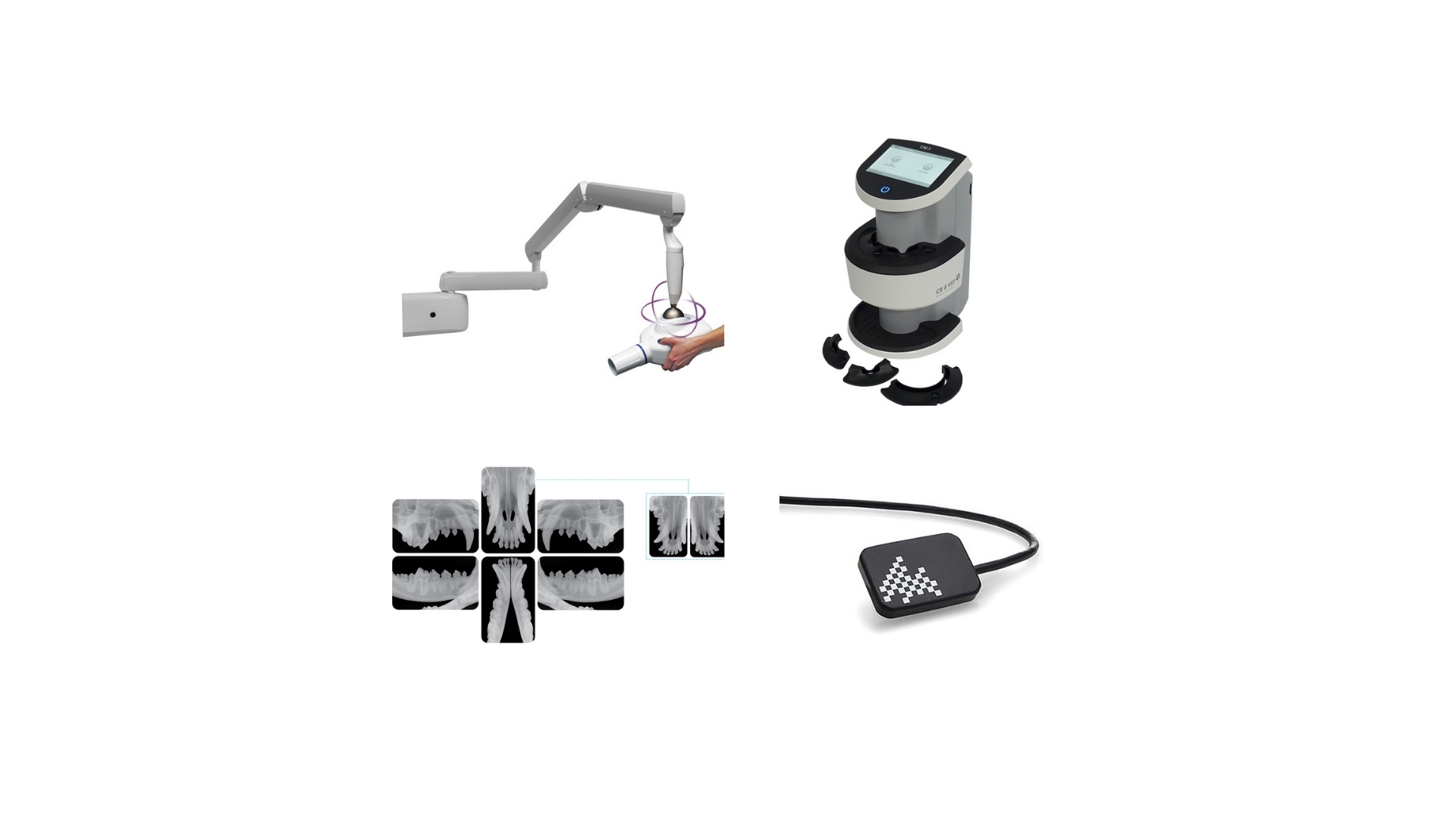 The Revolution 4DC Dental X-Ray Generator features the latest technology. Specifically
conceived for digital X-ray imaging, the constant potential tube head technology 
combined with the smallest focal spot available for intraoral imaging (0.4 mm) 
guarantees consistently sharp images. The Revolution 4DC allows uninterrupted use 
during multiple exposures, such as full mouth acquisition, thanks to the Dynamic Duty-
Cycle which is based on real-time control over the bulb temperature and is visible on the 
hand-held display.

The revolutionary full-swivel ball joint allows the tube head to revolve freely around the 
sphere so that practically any position can be achieved, including vertical. A touch-
sensitive on/off lock enables effortless repositioning of the tube head between 
exposures. The wireless remote allows you to program and operate the unit from 
wherever you are in the surgery. There are no other wall-mounted or wired control 
panels to worry about. Easy to use and handle, the remote offers a full range of intuitive 
exposure scenarios designed to make correct X-ray acquisition a straightforward process.
No more complex programming or button-crowded panels. The Revolution 4DC automatically defines the correct exposure and adjusts the kV and mA by selecting the appropriate tooth icon on the veterinary-specific display.
Quality

The lightweight, self-balancing extruded aluminum arm reduces any risk of tube 

head vibration or drift during image acquisition. Great installation versatility and 

multiple arm lengths are available for wall installation.

Health and Safety

The Revolution 4DC with its constant potential and high-frequency X-ray

generator, significantly reduces radiation dosage compared to traditional X-ray 

units. Not only is the most harmful, low energy radiation almost eliminated 

thanks to the high-efficiency generator, but the embedded 12" collimator 

minimizes the exposed bodily surface and increases the X-ray parallelism. This 

leads to better image quality and higher regard for the patient's health.
DR X
15 years' experience in sensor technology
Absolutely convincing is the high detail recognition with minimum radiation 

dose.

The depiction of the finest grey scale. Thanks to the quick availability of images 

and high level of detail, DR is a valuable complement to image plate technology 

in endodontics and when checking abutments.
Fast image transmission with CMOS 
The modern CMOS technology of the iM3 DR X Sensor guarantees fast image 

transmission with high resolution. The new scintillator layer reduces scatter and 

concentrates light, which positively influences the image quality.
Your benefit 
High detail precision – Reliable diagnostics

Rapid image availability – Efficient workflow

Multi-user capability – Inexpensive and flexible

The optimum complement to the image plate in endodony, implantology and 

dental conservation
CR 8 VET
Over the last decade, the iM3 CR 7 VET has helped make iM3's X-ray solution popular with vets all over the world with its exclusive plate range and superior image quality it remains in a class of its own. Now we are excited to introduce the NEW iM3 CR 8 VET. With its two-slot scanning design, the CR 8 offers an even faster workflow than ever before.
2 x plate slots, providing parallel scanning for fast sequential scanning of imaging plates.

Highest Resolution 40 LP/mm theoretical, with 25 LP/mm actual

Adjustable resolutions allow for fast scanning times.

Up to 4 x size 2 image plates can be read in as little as 25 seconds.

Developed for requirements in large veterinary practices & dental clinics.

High resolution glass touch display, patented PCS technology for excellent image quality

Scans intra-oral plates size 0-6
iM3 Plates are the largest range of plate shapes available to the Veterinary Dental market
and are for use specifically on iM3's CR 7 and CR 8 scanners.
Size 5 intra oral image plates are a must for canine dentistry and are exclusive to iM3. Full mouth overviews are possible in a large dog in only 6 images using a Size 5 CR image plate, only available for iM3 CR 7 and CR 8 Vet.

iM3 created the R3 plate for scanning small animals such as Rabbits. This R3 plate is for use on both our CR 7 and CR 8 scanners and are the only scanners worldwide with a scanning plate for Rabbits.

Introducing size 6, with great potential for long snouted dogs, extremities, and small exotics

Only at iM3 can you find the complete range of Veterinary Dental image plates, in true and accurate sizes.

Others claim our sizes but their plates are actually smaller
Vet Exam Pro
iM3 Vet-Exam Pro, the new, fast, simple, reliable, and modern veterinary dental x-ray software.
Taking all our experience as the leading supplier of veterinary dental radiography and combining it with the feedback from our customers and participants at iM3 ACE courses over the years has allowed us to develop something truly special that is tailored and specific to the veterinary market.
iM3 Vet-Exam Pro incorporates many new innovations and has been designed to be as user friendly and intuitive as possible. It fits perfectly in the iM3 ethos and is an excellent companion to the iM3 CR 7 Vet and the "Size Matters" approach to full mouth overview x-rays, allowing you to make the most of these excellent tools.
The following pages highlight just some of our favorite features and benefits of iM3 Vet-Exam Pro.
Integrated Capture Screen and Viewer
iM3 Vet-Exam Pro makes an innovative leap by combining the capture screen and the historic image viewer. This provides a simple all-encompassing workspace that allows for immediate comparison between newly acquired radiographs and older images already held in iM3 Vet-Exam Pro.

This simplified approach is key to the natural workflow iM3 Vet-Exam Pro provides to its users. Selecting or creating a patient leads directly to capture and view screen. As new radiographs are captured, they are automatically saved in the background with no interruption to the user.

The modern coding and database management within iM3 Vet-Exam Pro keeps the program running smoothly and quickly without interruption regardless of the task.
Large Range of Species
iM3 Vet-Exam Pro allows for an extensive range of species. Each available species offers a specific tooth chart for accurate trident numbering and tracking of radiographs.

The full list of available species has been increased to now include cats, dogs, large exotic cats, hamsters, guinea pigs, chinchillas, rabbits, hares, rats, mice, ferrets, birds, equine and apes.

Extremities or even full body images of small exotics can also be captured. The selection of filters and tools of iM3 Vet-Exam Pro combined with the dynamic range of the iM3 CR 7 Vet Dental X-Ray Scanner and its high resolution plus image plates make the system a must-have when working with small exotics.
Veterinary Specific Layouts
iM3 Vet-Exam Pro comes pre-loaded with veterinary-specific layouts for cats and for dogs that allow for quick and professional dental overviews. Including 6-image and 7-image layouts for iM3's "Size Matters" overviews, 16-image and 22-image layouts for advanced overviews or DR 7 users, and options to include pre and post scaling images. You can also create your own layouts and save them for future use.

Layouts can be loaded as empty templates and radiographs easily dragged into them, or they can be automatically populated with the most recent images based on the tooth number. Layouts can even be automatically populated as full-mouth radiographs are taken in sequence. Additionally, each time a layout is used, the session is saved in the patient's history allowing you to quickly continue from where you left off.
Refined Toolbox
The newly refined and improved toolbox was designed to be intuitive to both new and experienced users of veterinary dental software.

Finding the tool you want is fast and easy thanks to the descriptive headers and visual labelling. Basic tools for zooming, mirroring, correcting, filtering and annotating, along with the more advanced features of iM3 Vet Exam Pro, are all at your fingertips and ready to use.

The intuitive nature of iM3 Vet Exam Pro allows it to be learned quickly and easily so you can get on with the important tasks of dental care supported by a powerful software package.
DICOM and Auto Exports
Full DICOM compliance allows easy export of data to remote applications (DICOM Send – optional). With iM3 Vet Exam Pro you can use DICOM Send or export in any of the wide range of image formats the software supports.

Whichever you choose, exporting is handled as a background task so there is zero downtime for you as images are transferred.
iM3 Vet-Exam Pro Upgrade Options
iM3 Vet Exam Pro now comes as standard with all new purchases of the iM3 CR 7 Vet Dental X-ray Scanner.