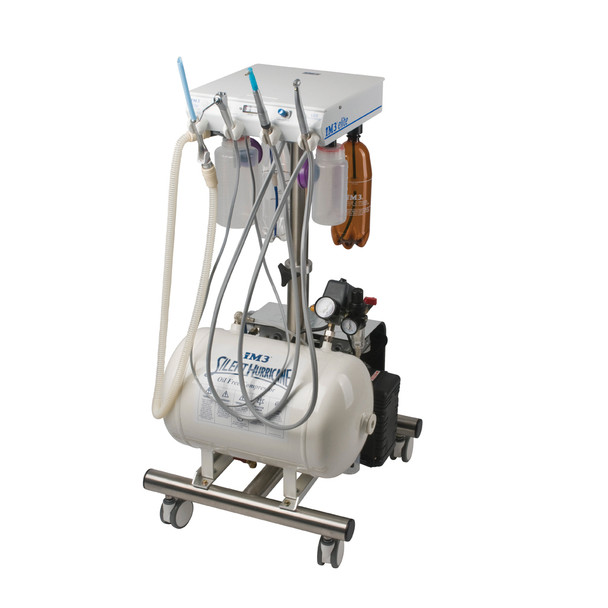 With oil-free compressor
The quality of the handpieces and iM3´s unique features ensure the elite dental machine is regarded as the number one in the industry.
The iM3 Elite LED comes with
Autoclavable / sterile Suction
3-way syringe (air, water, and mist)
low speed handpiece for polishing
High-speed LED handpiece with swivel – providing excellent ergonomics
The elite dental system features advanced LED light in the high-speed handpiece, automatic handpiece activators and the only fully autoclavable and sterile air driven dental suction in the industry.
LED Advantage high-speed 360-degree swivel handpiece allows greater control of the handpiece and reduces hand fatigue. The built-in magnetic bur holder prevents burs from falling on the ground. The burs are held in place right where you need them! The two bottled water system with auto pressure release allows the user to choose between CLS (iM3's Chlorhexidine based solution) and water depending on the procedure and the handpiece being used. All iM3 machines are fitted with a low-speed motor and swivel 4:1 straight nose cone (SNC) for polishing. An array of low-speed attachments for rabbit dentistry, orthopedics and restorative dentistry are also available.
The elite, with its built-in IEC power board and coolant outlet, allows for the easy integration of an ultrasonic scaler. The iM3 42-12 ultrasonic scaler or any brand of scaler can be connected to the water and power supply of an iM3 dental machine. The dental machine is self-contained and only one power cord is required to power the machine and ultrasonic scaler.
The dental machine chassis is made from aluminum with hospital grade powder coating. The machine control box and components are covered by a full 5-year warranty.
The elite can be supplied with a height adjustable (50 cm), long reach (150 cm), pneumatic wall arm. The arm allows the machine to be stored against the wall and extended to the end of the wet table for use.
The airline and electricity for the dental machine are contained in the arm, removing unnecessary cables from the ground.
Wide range of dental units models available